Best online custom Sunbrella Replacement Cushions available.  Choose from 100's of Sunbrella fabrics and rest assure that all items used to make your cushions are USA made products.
One of our primary goals at Online Replacement Cushions (ORC) is designing and manufacturing products that support future generations by attaining sustainability through the preservation of natural resources. We strive to only make products that use materials and processes that have a minimal negative impact on the environment, working to conserve as much energy and natural resources as possible.  All of our inner foams and fiber fills are manufactured in the USA which are regulated by governement agencies to ensure no harmeful chemical and products are used.
If you are looking for top of the line Sunbrella Replacement Cushions, ORC Cushions is your destination. We offer outdoor furniture cushions manufactured right here in the USA, bringing you the quality and comfort you deserve. Locations in Ontario & Fontana, California, we also offer custom covers for anything from umbrellas to boats, providing our customers with affordable, luxurious, and unique products.
Our main goal is providing our customers with top of the line service, giving them dependable service they can count on. If you are interested in learning more about our amazing product line and services, contact us via telephone or go to www.onlinereplacementcushions.com to get a free no obligation instant quote.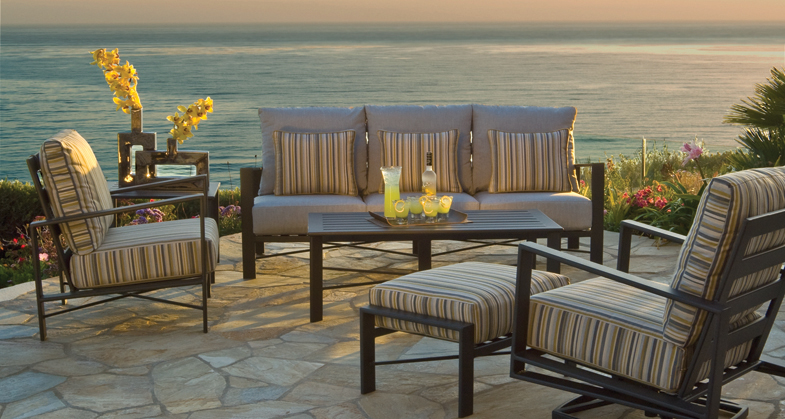 Sunbrella fabrics are manufactured in facilities around the globe. Main manufacturing location is a one million square foot facility in South Carolina, USA. This Anderson, South Carolina plant features a completely vertical ISO 9001 and 14001 certified manufacturing operation, R&D center and testing lab. This facility established the blueprint for our plants in Lille, France and Suzhou, China, manufacturing locations that enable us to best serve our customers in those regions. Sunbrella is always manufactured to the same standards and is delivered when you need it, anywhere in the world. We only utilize Sunbrella brand for all of our Sunbrella Replacement Cushions.
Sunbrella is famous for being stain resistant but that does not mean you should clean it with just anything. Sunbrella Replacement Cushions should be cleaned properly in order for them to last and lose theior shape or get damaged. You can follow these simple steps depending on what type of stain you have on your cushions/fabric:
Sunbrella Cushion fabric is treated with a water and stain repellant when it's manufactured. Cleaning the fabric may remove this repellant, so a re-treatment of fabric guard is recommended after you clean Sunbrella with any soapy solution.
It is not recommended that you unzip the covers on your cushions and remove the Sunbrella fabric from the inner foam. It is very difficult to get the foam back inside with the corners tightly in place and without creasing or ripping the Dacron that may be wrapped around your foam. Always clean your cushions with the Sunbrella fabric in place.
Enjoy your outdoor setting with Sunbrella replacement cushions, custom made to perfection from Onlinereplacementcushions.com.  Search through an assortment of Sunbrella fabric, featuring an abundance of solid colors, stripes, prints and some florals.  Navigate through our website and discover your creativity.  Regardless of whether you're hoping to redesign your dining area, conversation sets, spa room or chaise lounge by the pool, Online Replacement Cushions can custom craft your replacement cushions in a variety of shapes and sizes with your choice of Sunbrella fabric to suit your personality and style.
Sunbrella is a high performance outdoor and indoor fabric, made from 100% dyed based acrylic that can withstand the ever changing weather.  From rain to sunshine, Sunbrella is the superior choice for your outdoor replacement cushions and to include; Sunbrella offers a 5-year warranty from fading.  This durable fabric is the choice fabric for outdoors but is soft and lovely for indoors as well.
With your best interests in mind
We thought you would appreciate a visual!  Our website can promptly demonstrate what your fabric choice will look like on a cushion.  Simply click your Sunbrella fabric and an image of your item with your fabric choice will show in the "Your Product" box.  Navigate through our website, choose your style and shape, customize the size and choose your sew pattern.  Add piping for that decorative look (contrasting piping available).
Whether you're a first time customer or a returning customer and have a need for 1 cushion or 100 cushions, you will be treated with the same supportiveness and patience each time you contact Online Replacement Cushions.  We value each customer and want all to feel at ease and never rushed when making a purchase.  We insist on the details and we are here to listen because not all cushions are simply square shaped.  Attention to detail is essentially critical when an order consist of curves, rounded corners or has notches (t-shape) and cut outs.  We are always happy to assist you and provide multiple avenues of communication for you to reach out to us.  Give us a call, live chat with us or send an email to sales@onlinereplacementcushions.com.  Our business hours are from 8:00 a.m. to 5:00 p.m. pacific standard time.  If you should try to contact us during our closing time, you may leave a voice mail, send an email or an offline chat message and we will return your call as soon as time permits. Each telephone call, email or offline chat message is important to us.
We will exceed your expectations in quality.  We make every effort to go above and beyond to make your custom replacement cushions just as good as the originals or better.  As Philip Kotler said, "The best advertising is done by satisfied customers" and we are confident you will be a satisfied customer and share a great testimonial with your friends and family.
Efficient manufacturer direct ordering is now a possibility due to the internet and we are ensuring our quality is superior and our prices competitive.  Shopping made easy in the comfort of your home without the dread of paying excessively for poor quality cushions.  We remain quality focused, standing by our product and providing excellent customer service because our customers are our priority and we want to accommodate your needs and wants with the best quality.
Our custom cushions are all handmade in the USA. That may not make any difference to a few, yet it is a critical piece of our quality control. Many organizations have failed to maintain their quality standards as they pursued overseas operations.  We custom craft every cushion with USA made materials and we are ready to take your custom requests.  Online Replacement Cushions makes custom requesting a practical probability for the individuals who require custom cushions.
Our website is secure and encrypted, gives us a call if you have any questions we may satisfy before placing an order.  Our undivided attention is given to each individual without a time limit.  If you have a question regarding the thread, fills, or what is the most economical Sunbrella fabric, we are here to help with your questions.
At Onlinereplacementcushions.com, you have the ability to customize your outdoor replacement cushions with your own measurements.  We also work directly with Sunbrella fabric manufacturing company which allows us to offer a wider fabric selection.  Revive your outdoor space with new cushions or throw pillows.
Deep seating cushions
Enjoy your outdoor space with deep seating cushions.  Deep seating usually takes a thick cushion ranging between 4 to 7 inches, allowing you and your guests to comfortably lounge from day to night.  Kick your feet up after a long hard day and in addition to your deep seating sofa or chair, adding a deep seating ottoman cushion will enhance your repose.  Or your ottoman can be used as an additional seat if you are entertaining guests.
Are your current cushions looking run down or did your outdoor furniture come with mediocre cushions?  There may be many reasons why you don't want purchase a whole new furniture set, perhaps your outdoor furniture is still in great shape or you have a piece you don't want to part with.  You still have the option of replacing your outdoor cushions.  Replace your cushions with a new fabric color or a thicker cushion if your furniture frames can accommodate the extra thickness.  The best thing about custom made cushions is that you can do it your way.  Add a couple of throw pillows, lumbar or bolster pillow for a decorative look or additional comfort.
If you are in search of replacing your outdoor cushions and your local store just don't have the right size or fabric, then grab your measuring tape, it's time to customize your cushions with Onlinereplacementcusions.com. You can measure the existing cushions or your furniture.  Keep in mind when measuring the thickness there is a loft or crown to consider.  The Loft/Crown is a term used to describe the increased thickness due to the batting.  All our foam cushions come with batting.  Batting is done with a dacron wrap to give that cushy feel, because you wouldn't want to just sit on a piece of foam.  Dacron is also used for the finishing look, it rounds out the edges and fills the fabric cover for a more even and rounded appearance. Our website provides instructions on how to measure both the cushions and the furniture.  If you're still not certain about measuring, give us a call or send us an email sales@onlinerepacementcushions.com, we are here to help.
Once you have all the dimensions, you're ready to begin the process of ordering your Sunbrella replacement cushions.  There are 9 simple steps to complete.  Step #1 choose your Item/style (Chair, Sofa, or ottoman..etc.), Step #2 the shape, step #3 the size (your measurements needed).  Step #4, select your sew pattern and optional piping, contrasting piping is available.  Step #5, choose your fill type, most customers will choose the high density foam for the seats and fiber for the back cushions to maximize the comfort.  Reticulated foam (fast dry) is an upgrade from the High density foam.  The reticulated foam is only recommended if your cushions will be in an area where it will be exposed to a lot of rain, plus this type of foam will not retain water.  High Density foam will retain water but because all the cushions come with zippers, you will be able to unzip the cushion, tip it and let the water drain.  Our High Density foam is a bit more firm than the reticulated (fast dry) but not much of a difference if you sat on both side by side.  Overall both foams are made for outdoor use.  Step #5 also gives you an option for Covers Only.  Step #6, Thread: two types to choose from, standard USA thread or Gore UV.  Gore UV is an upgrade from the Standard thread and is recommended if your cushions will be in constant direct sunlight. It's known that the sun will disintegrate just about anything if kept out for long periods of time.  When cheap thread is used, the cushions will start to come apart at the seams due to over exposure to the sun.  But Gore UV thread will outlast the fabric.  The Standard USA thread is still a good thread and it usually last for years in less severe sunny areas or if your cushions will be protected under a porch or cushion cover.  Step #7 ties, you can choose your tie placement, ties are optional and can be added at no extra cost.  Our tie system is different, because the ties are not permanently sewn in.  Our custom made Sunbrella cushions are made with a removable tie system that would allow you to flip the cushion in order to utilize both sides.  Step #8 Sunbrella Fabric, all fabric is Sunbrella and there are many fabric choices available, from solids and stripes to specialty patterns and textures.   Within Sunbrella fabric there are different series/ grades of fabric, but with Sunbrella fabric you get the same quality and durability no matter what series you choose.  Make Sunbrella fabric your choice!
Get a head start and order your Sunbrella replacement cushions early for summer time.  Or order during our off season to avoid the pipeline congestion.  Our peak season starts in March and gets extremely busy during the months of April and May.   Our production time during our peak season is 30 business days, but may be a bit longer during our busiest time.
Have fun mixing and matching with coordinating colors and patterns.  Or create that resort-like environment that you'll always want to get away to and you'll only have to go as far as your backyard, or enjoy that cool mountain breeze as you lounge on your porch with a warm cup of coffee and your new Sunbrella cushions.  Whether you're lounging in solitude or entertaining guests, you will be at ease because you have the assurance the quality has exceeded your expectations from the inside out.
If you don't see your item selection on our website, or if there is something that you may want to add to your cushions, please contact us.  We can make back cushions only, double chaise cushions, benches that are wider that 52" and round cushions.  We can walk you through our website or take your order by phone.  For a unique-shaped cushion, you can send in your existing cushion, the cover or make a paper template.  If you don't know the color of your Sunbrella fabric and you want to be sure it is a match, send us a clear and up close picture via email at sales@onlinereplacementcushions.com and we can try to identify the fabric and also send you a swatch to confirm it is the right one.  We offer up to 5 complimentary swatches, so if one or two fabric colors might look like the one you have, no worries we will be able to send you both.
Sunbrella Fabric Swatches
We offer up to 5 complimentary swatches.  Just contact us with your name and shipping address, and list the name of the swatches, we are always happy to assist you.  Shipping will take 3 – 6 business days till you receive your swatches.
Your design our craftsmanship
Sunbrella Replacement Cushions, high quality custom cushions made for your outdoor enjoyment.  Create your own regal look with Sunbrella fabric for any brand of outdoor furniture.  From upscale furniture such as Brown Jordan or OW Lee to your own custom made masterpiece, begin the process of making your vision a reality with a simple click to onlinereplacementcushions.com.
Our custom cushions are built to last and with good upkeep and proper care your custom replacement cushions will last for years.  Scroll down to Fabric Care located at the base of our website and there is a whole page with different approaches on how to clean your Sunbrella fabric.  Making the decision to purchase outdoor replacement cushions is an investment, so your cushions should be properly cared for in order to continue to have vibrant and great looking cushions from season to season.