CUSTOM SUNBRELLA OUTDOOR CUSHIONS
What most people don't realize is that NOT ALL CUSHIONS ARE BUILT THE SAME.
There are many factors involved in making a quality outdoor cushion. It starts with extreme attention to detail which begins with cutting the fabric with precise dimensions. We utilize a compurized cutting system which eliminates uneven cuts. This process ensures that all fabrics are evenly cut and ready for sewing process. We only use experienced seamsters that are highly qualified in their profession. They take the time to ensure the highest quality is implemented to each and every cushion.
In fact we are so confident in our quality that we are willing to make this offer:
If you have a large order of 15 or more cushions, we are willing to make ONE cushion only and send it to you at NO CHARGE so you can inspect it. If you are not 100% satisfied  you can keep the cushion at no cost or simply dispose of it. We are confident that you will contact us to complete your entire order.*
Remember in this industry you will always get what you pay for!!  
You buy from an extremely high priced retailers with mediocre quality cushions.
Purchase from us and pay reasonable prices for extremely high quality cushions.
Pay low prices from various online "Knock-off Kings" and get what you pay for.
We do not sell any prefabricated cushions. All of our cushions are custom made to your specifications.
Please do NOT compare our quality and pricing to any local or other online retailers. We put a lot of time and effort into every single order to ensure that the best quality has been implemented before they leave our facility. We do not make multiple amounts of cushions and have them sit on our shelves.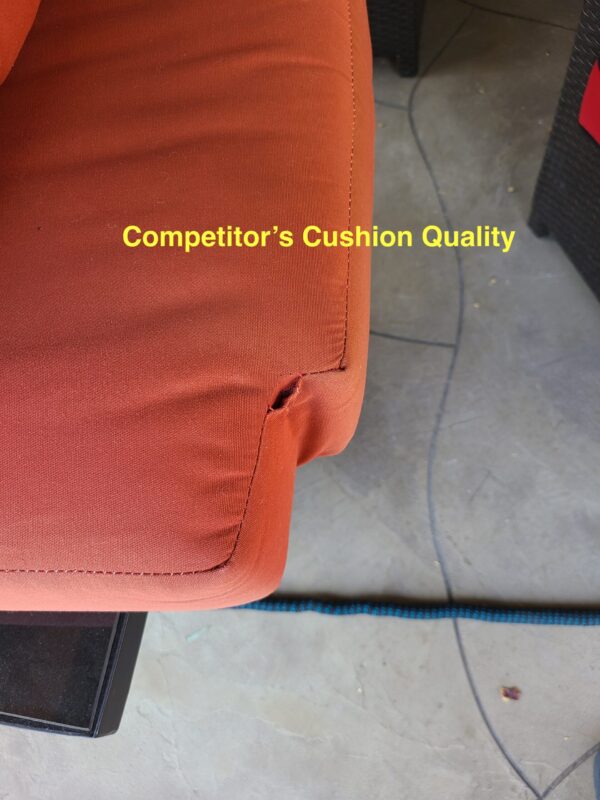 BETTER QUALITY SHOULD NEVER BE OVER PRICED!!
Extraordinary Cushions takes a little extraordinary effort on your part!! We may have to contact you to verify dimensions, fabric direction, etc…
Online customers shop for price & convenience. Ordering cheap or expensive cushions made incorrectly is not convenient. We triple check all order before we process your payment. You don't get a second chance to make it right.
We have no hidden charges. Everything is broken down on our website. If there's any upgrade fees that was not included in your order, such as fabric upgrades, we notify you via email before any payments are processed.
Custom outdoor cushions and replacement outdoor cushions start with Sunbrella® fabric. Yet quality outdoor cushions go beyond Sunbrella® outdoor cushion material.
Your highest priced outdoor cushions are not always the best. During our 30 years in business, we've always taken the time to point out quality features, so here goes….
QUALITY OUTDOOR CUSHIONS 101: Quality goes beyond fabric & fit! Most customers focus on fabric selection and fit. Foundation and construction of an outdoor cushion should never be ignored. You don't put expensive carpet on a cheap pad. You don't put sunbrella fabric on cheap fill material. Moreover, you don't sew an outdoor cushion like a sack of potatoes.
Most websites focus on fabric selection and dimensions — Quality outdoor cushions involve: • Will my outdoor cushion be comfortable? • Will my outdoor cushion last? • Will my outdoor cushion look good / professional?
Quality upgrades involve Sew Pattern, Specialty Fabrics, Removable (hidden) Ties, Reticulated Foam, Piping (cording), Better Foam, Thicker Cushions, Gore® UV Thread, Firmness Options, Headrests, Buttons – – We Do It All!
Many of these options are already included in our general pricing.
See option on the order form
COMFORT: How do you know that the outdoor cushion you're ordering won't be "rock hard" or marshmallow soft? A comfortable outdoor cushion has multi-layers of high density outdoor foam with a final wrap of fiber. Cumulus fill (alone) can be very hard if it's going to provide adequate support. Cheap foam (alone) will feel "spongy", absorb water and "bottom-out". The proper combination of high density foam & fiber will provide the firmness/comfort level you desire. We offer 5 options.
DURABILITY: Multi layer foam provides reflex so your outdoor cushion will hold its shape for years. Cumulus fill breaks down/sags over time. Don't settle for anything less than high density outdoor foam. More specifically, there are grades of foam and fiber. The generic term, "Outdoor Foam" can be highly misleading. High end manufactureres use 1.9 High Density / HR 28 High Resiliency foam. Most online sites use foam "light-years" below this quality. Manufacturers, such as Tropitone, use High Density / Quality Fiber. Putting the word "Plush" with fiber/cumulus fill, doesn't make it plush. We use quality fill material, (1.9 / HR 28 foam & densified fiber)… not JUNK.
CONSTRUCTION: Sew pattern is a critical quality factor. Look at the cushions of a quality outdoor furniture manufacturer such as: www.owlee.com. Notice that most of their outdoor cushions are bullnose. Bullnose uses a continuous piece of fabric for top and bottom of seat. (No seams @ front to break or tear). We prefer this pattern and don't upcharge for it. We do upcharge for box & welt because more labor is involved (because a box cushion has more seams). Box & welt is a stylistic factor, not a quality factor. Finally, quality thread must be used — seams should last as long as fabric. Over the years, we've re-sewn hundreds of Sunbrella® cushions where another cushion manufacturer used cheap thread. These cushions usually "fall apart" in less than 2 years. Your "factory cushion" may have been imported. Made in USA should mean BETTER. We may make improvement suggestions — you decide.
VALUE: Quality is never cheap. Shopping online for outdoor cushions should save you money — unless quality standards are subordinated. We don't use superlatives to describe our quality. We simply set the standard & invite you to go shopping/compare.
We guarantee the lowest price for the same quality standards — that's value. You can easily find higher prices on-line. Ironically, you're frequently paying more money for mediocre quality. Sometimes you don't get what you pay for.