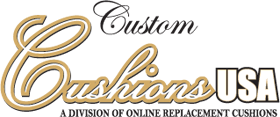 Our Outdoor Cushions Are Built To Last!
SOUTHERN CALIFORNIA HAS BEEN OUR BASE OF OPERATIONS FOR MANY YEARS – – SUNBRELLA CUSHIONS HAVE WITHSTOOD THE TEST OF TIME AND CLIMATIC EXTREMES, SUNBRELLA® OUTDOOR CUSHIONS WITHSTAND THE:
BLAZING SUN OF PALM SPRINGS AND THE HIGH DESERT; SNOW OF LAKE TAHOE AND MAMMOTH. SALT AIR OF NEWPORT BEACH & SAN DIEGO. WIND AND RAIN OF RANCHO CUCAMONGA AND SAN BERNARDINO COUNTY
REGARDLESS OF WHERE YOU LIVE IN THE USA, SUNBRELLA® OUTDOOR CUSHIONS WILL LAST!
We believe in having a long term relationship with our customers rather than doing business once, grabbing the money and running.
Sharing the benefits of this relationship with you means that our prices are less than other cushion companies for the same or even better quality.
We triple check all orders for accuracy.
We have no hidden charges. Everything is broken down on our website. If there's any upgrade fees that was not included in your order, such as fabric upgrades, we notify you via email before any payments are processed.
We take your creations seriously!
Feel free to ask us as many questions as you need.